⭐ EVERYWHERE PERFECT:
With the MOST Ficus Artificial Trees available, Homelux Theory always has a realistic Silk Fiddle Leaf Fig Plant to beautify any room. Ranging from 21.7" for your shelf decor or dining table centerpieces all the way to our glorious 7ft floor plant. It's faux natural decor made easy. [See our chart below for dimensions, material, leaf count & more details!]
⭐ 31.5", SMALL FAKE TREE:
This plant is 2.6ft short in a 6" wide, cement-filled plant pot so you can pop it inside your own desk planter and cover with moss for easy decorating like a real fiddle leaf fig tree! But before you add this corner plant to your life, check out the rest of the Fiddle Leaf artificial tree collection because if you need matching faux plants – we have them.
⭐ USE & STYLE WITH EASE:
No Maintenance Required; No Watering. Looks full and fresh every day; wipe clean with a soft dry cloth. To style, You may slightly bend the branches and 'prune' the leaves to arrange it how you want, however, it is recommended not to bend them too harsh or they might break!
⭐ COMMERCIAL FITOUT:
Because we have such a large Ficus / Fig Leaf artificial plants indoor selection we can help you with matching greenery decor for your entire office, church, shopping center or party. Just measure your space and see if we have the faux tree decor that fits the best!
⭐ TRY THEM FOR 30-DAYS:
Take this home / office plant away, try it and see how this artificial fiddle leaf fig tree fits your rustic or modern decor. Whether you've got pets and toddlers, or an entire shopping center to decorate, make sure all your fake trees look real and match with Homelux Theory.
- View the range and choose the size fiddle fig that fits your green decor theme best.

- Available as little as 21.7" Decorative Plants, and silk trees for home decor 4 feet, and as big as 6 Foot Fake Tree and Magnificent Big 7 Foot Plant. Choose your size and single, double or triple stem
- More decor matching than similar fake potted plants
- For commercial or home use
- Wipe out the dust on leaves using cool water
- No watering needed
- Little maintenance required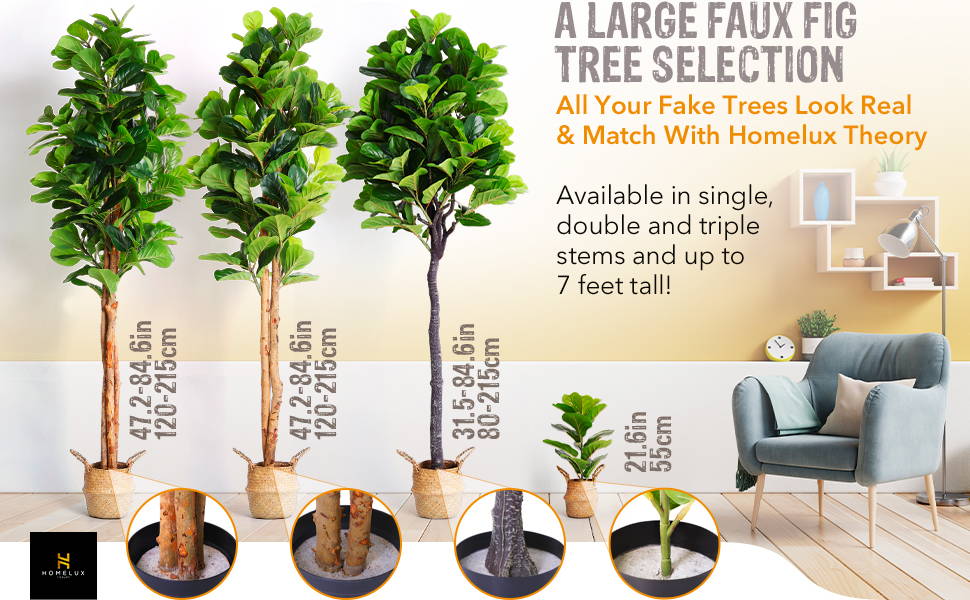 Frequently Asked Questions

1. How many servings is a 20-piece set for?
20 piece = 4 sets, meaning it is 4 servings.