⭐CLASSIC & TIMELESS DESIGN
– With the elegant curves of this silverware collection, you can be proud to host an event. It complements any theme and decoration for your dinner table. Each 5-piece flatware set is for 1 serving, including 1 dinner knife, 1 dinner fork, 1 dinner spoon, 1 salad fork and 1 teaspoon.
⭐STURDY STRUCTURE & PREMIUM QUALITY
– This cutlery set is made from premium 18/10 stainless steel, they will not corrode, bend, or become tarnished with proper care. Rust-proof with ergonomic handles, this durable flatware is designed for long time use. The quality of our silverware collection are something we take great pride in, which is why we are backing it up with a 30-day money back guarantee.
⭐EASY CARE
– Dishwasher safe, this flatware set is easy to clean and maintain. For best results, hand wash with warm soapy water and use a soft cloth to dry thoroughly before storing. For best result, do not leave flatware soaking in water, soup, or strong detergent for a long time. Mild detergent (non-lemon) is recommended while washing.
⭐A LONG-TERM INVESTMENT
– Designed and ideal for everyday use, this silverware set is perfect for hosting dinners and gatherings. It will also make your delicious meals look even more appealing and taste even better!
⭐MAKES A PERFECT GIFT – Quality cutlery makes an ideal gift for friends and relatives during weddings, anniversaries, and Christmas. Plus, this silverware set is in an elegant packaging box.

- Crafted from 18/10 (304) stainless steel, [except dinner knife 18/0 (420) stainless steel], stand up to the rigors of everyday use
- Lead-free, Cadmium-free, Phthalate-free, BPA-free
- FDA and LFJB Approved
- Durable and eco-friendly
- Luxury Modern Design
- Premium quality
- High hardness- Rust Resistant

- Stainless steel is dishwasher safe and easy to maintain, but the ideal method for washing flatware is by hand.
- For best result, do not leave flatware soaking in water, soup, etc. for long time.
- Lemon detergent is not recommended as this may cause corrosion.
- Use soft cloth, such as microfiber cloth or mitt, and mild detergent to clean and dry thoroughly before storing.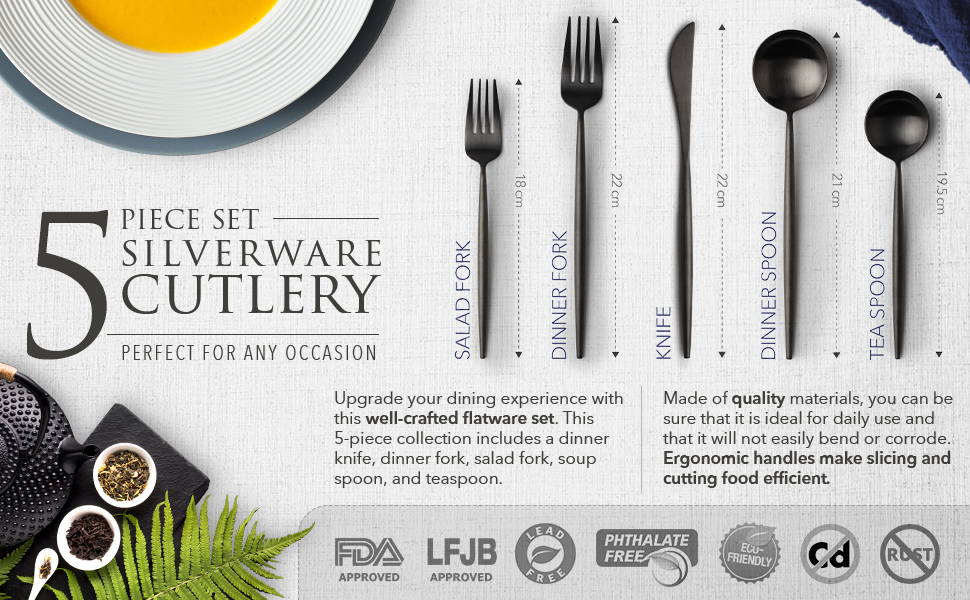 Frequently Asked Questions

1. How many servings is a 20-piece set for?
20 piece = 4 sets, meaning it is 4 servings.